---
(James Bond) 007: Nightfire Back to Boxed Page
Description:
The ultimate secret agent is back in his most dangerous adventure yet in James Bond 007: NightFire. Featuring Pierce Brosnan as James Bond, players operate in the snow capped Austrian Alps and outer space as well as underwater in the depths of the South Pacific to defeat the evil criminal mastermind Rafael Drake who is secretly bent on world domination. NightFire™ features an original single player storyline borrowing from the 007 legacy that spans 40 years. All this plus glamorous (and sometimes deadly) Bond women, and new state-of-the-art gadgets and weapons will leave you shakenand stirred.
Features:
Online Battles with up to 32 people and challenging Al enemies in more than 15 exotic locations deliver the most challenging muliplayer action ever.
9-Action-packed, single player missions, filled with beautiful women and treacherous enemies, demand your immediate attention and utmost skill.
Special gadgets including Q-specs for infrared, night, and x-ray visibility,the Phoenix suitcase turret gun, and the Laser watch.
TEEN

Suggestive Themes
Violence
System Requirements:
Operating System: Mac OS X 10.3.4 or later
CPU Processor: PowerPC G4 or later
CPU Speed: 1GHz or faster
Memory: 256 MB or higher
Hard Disk Space: 2.4GB free disk space
Video Card (ATI): Radeon 8500 or better
Video Card (NVidia): GeForce2 MX or better
Video Memory (VRam): 64 MB or higher
Media Required: DVD Drive
Multiplayer Requirements
Internet and LAN (TCP/IP) play supported
Internet play requires a 56Kbps or faster connection
Network play Mac to Mac only
Includes:
Price: SOLD

---
Description:

Falsely accused and imprisoned in a high-security facility, you watch in horror as a mysterious biogenetic experiment turns everybody around you - guards and prisoners alike, into ravening, inhuman monsters. Your only hope - steal a suit of powered armor, any weapons you can get your hands on, and make your way to the deepest level of the prison, before the plague spreads to the outside world.


Abuse is 360 degrees of side-scrolling action. Run, jump, fall and fly in any direction - through industrial corridors, caverns and sewers. Destroy enemies in any direction with grenade launchers, rocket launchers, napalm nd nova spheres! Avoid deadly traps with jet packs and turbo boost!


Created by the red-hot new game developers Crack dot Com and distributed by Bungie Software, Abuse combines classic arcade action with up-to-the-minute graphics, sound and technology.


Key Features:
Level Editor. Revel in your own destruction and make money doing it!
8 Person Multiplayer. Your friends' life expectancy: 45 seconds!
Kick-ass Arsenal. Napalm Bombs, Nova Spheres and the Death Saber: just a few ways to lay waste!
Point and Kill Interface. Move and annihilate mutants in complete 360° freedom.
Secret Rooms. Destroy floors, walls and ceilings in search of the ultimate power-up!
Minimum System Requirements
68040 or Faster
640x480 256 Color Monitor
System 7.1 or Later
CD-ROM
6 Megs of Ram
Includes:
Price: SOLD

Adrenaline Sports Pack Back to Boxed Page
Description:
In Wakeboarding Unleashed - HANG ON FOR YOUR LIFE! Rip across a lake behind a screaming speedboat, tricking through dangerous terrain with only a sliver of wakeboard between you and the blistering water below. Catch mind-blowing air in 9 exotic locations around the world-from Lake Powell to Hong Kong Harbor.
In Kelly Slater's Pro Surfer, players experience an all-out adrenaline rush as they drop down huge wave faces, pull into barreling tube rides and pull off hundreds of massive trick combinations and signature pro moves. Players choose their own path as they interact with famous surfers, sponsors, magazines and photographers. Exotic real world locations and events including full beach environments with real landmarks and hazards lend authenticity to the game.
In Tony Hawk's Pro Skater 4 drop into the ultimate skating challenge. Players take on the role of legendary skateboarder Tony Hawk and 13 other athletes as they skate through enormous free roaming levels, choose from 190 progressively harder goals and build their skills to perform 14 of the greatest skateboarding stunts of all time.
Macintosh System Requirements:
Mac OS X 10.2.6 or later
G4/G5 Processor at 700 MHz or faster
256MB of RAM
580MB free hard drive space
3D Graphics Acceleration required (ATI Radeon 7500/NVIDIA GeForce 2 or better, 32 MB of video memory required)
Includes:
Box
(6) CDs
(3) Manuals
(1) Registration Card
Price: SOLD

---
Age of Mythology Back to Boxed Page
Description:
The age of mythology. A time when heroes did battle with monsters of legend and the gods intervened in the affairs of mortal men. Age of Mythology® is the latest real-time strategy game from Ensemble Studios®, the creators of the best-selling Age of Empires® and The Age of Kings®.

Guide one of nine ancient civilizations to greatness by commanding all aspects of your empire. Advance through four distinct ages. Use mythological creatures like Minotaurs and Cyclopes to bolster your army's strength. Immerse yourself in the beautiful world created by the game's revolutionary new 3D engine.
GUIDE YOUR CIVILIZATION TO GREATNESS

Command all aspects of your empire as you guide one of nine ancient civilizations to greatness. Gather resources, raise massive armies, wage war, establish profitable trade routes, build settlements, explore new frontiers, and advance your people through four distinct ages.
MYTHOLOGY

Bolster your army's strength with mythological creatures like Minotaurs and Cyclopes. Call upon the gods for help flattening enemy towns with meteors or scattering opposing troops with lightning storms. Age of Mythology gives you over 30 God Powers and 40 Myth Units through 9 unique major gods and 27 unique minor gods from three distinct cultures: Norse, Greek, and Egyptian.


IMMERSIVE 3D WORLD

Mythology is brought to life through a revolutionary new 3D engine created by Ensemble Studios especially for Age of Mythology. While Age of Empires and Age of Kings both used a 2D engine, Age of Mythology offers a rich 3D world filled with realistic terrain, water, and intense special effects. Enjoy lifelike rolling terrain, beautiful waves and water, realistic sunlight, and lush forests. The units roaming these environments are incredibly detailed, move naturally over the terrain, and come to life through hundreds of fluid animations. Amazing special effects change the look of this beautiful world when the gods get involved: all grows dark as an eclipse takes effect, funnel clouds twist and grow as a tornado sends buildings spinning toward the heavens, and meteors streak in from the heavens to send people and armies at the point of impact flying.
EPIC CAMPAIGN

Follow Arkantos' journey through ancient lands and epic battles in a 35-Scenario campaign. Guide your forces from the siege at Troy, to the pyramids in Egypt, to the snow covered mountains in the North, to the mythological underworld. As progress is made through the single-player campaign, parts of the story are presented using in-game cinematic interludes, featuring the actual units being played with (and the environments played in) to tell the tale.
A GAME FOR EVERYONE

Age of Mythology features an entertaining tutorial, an intuitive interface, and logical game rules that combine to allow anyone to quickly and easily learn to play. Once started, there is a lot to explore: an epic 35 scenario single-player campaign, easy-to-use multiplayer gaming online, single-player games against the challenging Age of Mythology AI opponents, more than 15 different random map types that help make the game infinitely re-playable, nine highly differentiated civilizations, multiple difficulty levels to allow players of any skill level to have an enjoyable game, and, of course, a fully functional scenario editor. Age of Mythology offers something for everyone: a fun game for any playing style or skill level.


HISTORY MADE LARGER THAN LIFE

Age of Mythology was created by Ensemble Studios, the makers of Age of Empires and Age of Kings, which together have sold over 11 million units and garnered praise around the globe as two of the best computer games ever created. Age of Mythology preserves the familiar elements popular in previous Age of Empires games. Wonders, civilization bonuses, technology trees, empire building, and large armies clashing on fields of battle are all at the heart of the game. Age of Mythology refines even more what Age of Kings nearly perfected and adds Mythology, creating an entirely new experience.
Screenshots:
System Requirements: Macintosh computer with a 450MHz or faster processor, OSX 10.2.6 or higher, 256MB RAM, 16MB RADEON/GeForce2 MX or better video card, and CD-ROM drive.
Includes:
Box
(1) CD
(1) Manual
(1) Tech. Tree
Price: SOLD

---
(Chuck Yeager's) Air Combat (Floppy) Back to Boxed Page
Description:
Three Historic Eras That Revolutionized Air Combat.
Yeager Saw Them All.
Nobody knows air combat like legendary ace pilot General Chuck Yeager. And his brand of dogfighting on the Macintosh is hotter than ever - it's simply the highest performance aerial combat simulator for the Macintosh and Powerbook.
World War II
The peak of prop-driven combat. Fly the famed P-51 Mustang against the Luftwaffe's FW-190. Become and ace in a day like Yeager did in '44.
Korea
Jets rule the day. Take an F-86 Sabre nose-to-nose with a MiG-15 in "MiG Alley".
Vietnam
Missles dominate the sky. Pilot an F-4 Phantom after a squadron of MiG-21's in the biggest air battle of Vietnam.
Your Mission:

Choose from 50 missions or pursue a full campaign to count your kills and score. Or create your own battles, mixing three eras and 24 different aircraft. You can even fly against a friend over a network.
Flight Recorder
Review actual footage or flip to the Tactical Analysis Model. Save your best kills to disk and watch them from every angle with VCR-style playback controls.
Key Features:
50 historic missions from three wars - choose your side
Mission creator lets your dogfight against aircraft of different eras
Pop-up windows display flight dynamics and other info, including targeting and flight evelopes
Accurate flight dynamics put you in the most realistic dogfights ever
Yeager gives advice and aircraft analyses with his own digitized voice
System Requirements:
Macintosh SE/30, Classic II, Color Classic, LC-series, Powerbook, II-series, Quadra, Performa, and Centris
HD floppy drive and hard drive (2.8MB free for B&W / 4MB free for color)
1MB RAM for B&W (w/System 6.0.7); 2MB RAM w/System 7.0
256-color graphics: 2MB RAM w/System 6.0.7; 4MB RAM w/System 7.0
MouseStick II recommended.
Includes:
Box
(2) 1.4MB floppy disks
(1) Manual
Price: SOLD

---
Aliens versus Predator 2 Back to Boxed Page
Sequel to one of the most frightening games ever made, Aliens vs. Predator 2 takes you to Planet LV1201, where three diverse and bloodthirsty species battle for survival. The story-driven plot weaves together the fates of all three races, while the action is as heart-stopping as the blockbuster films on which it is based. Choose to play as Alien, Predator, or Marine as you use your physical prowess, killer instincts, or superior firepower to stay alive.
Single Player Mode
Play as Alien, Predator, or a Colonial Marine-each armed with unique new weapons and abilities
21 intense single player missions set in 3 interlocking story lines
Multiplayer Mode
Death Match: You against everyone else. No teams
Team Death Match: A team against another team
Evacuation: One Predator for every two Marines. Get out alive.
Hunt: Two races, Predator and Marine. The Predator is hunted by Marines until last man standing.
Survivor: Marines vs. Aliens. One Alien in beginning. When a Marine dies, he becomes an Alien until last man standing.
Over Run: Corporate vs.. Aliens. Corps. get one life, Aliens get two.
Play as 1 of 16 characters in 12 multiplayer levels including Species Team Maps and Deathmatch
Game types include survivor, Deathmatch, Team Deathmatch, and Hunt
State-of-the-art Graphics and Engine
New highly detailed environments including LV1201 landscapes
32-bit animated light mapping for phenomenal effects
Advanced game engine using LithTech Development System
Improved Equipment and Abilities
Players of the original Aliens vs. Predator will thrill at the discovery of powerful new abilities for each species
System Requirements:
Power Mac G4/700;
Mac OSX x 10.2.6
With 256MB Ram
(NOT RECOMMENDED FOR IMACS)
32MB Radeon Or
Geforce Video
Includes:
Box
(2) CDs
(1) Manual
(1) Registration Card
Price: SOLD

---
A-Train (Floppy) - *NEW* Back to Boxed Page
Description:
Cities all over the world are masses of idling, polluting, honking cars.
We need mass transit - but local, state and national governments haven't been able to make it work.
If you can create and operate a successful privately held mass transit operation, you'll do the world a service and reap huge financial rewards - but that's only the beginning.

First, manage your railroad - transport passengers and freight, extend your lines, and develop the most efficient and profitable routes and schedules.
Then, borrow from the bank, buy and develop land, expand your holdings into hotels, factories, resorts and department stores, play the stock market, and build a financial empire.
Features:
Six different scenarios present a variety of development styles and challenges.
Build high-rise offices, department stores, hotels, golf courses, amusement parks, stadiums, ski resorts, and more.
On-screen day/night cycles and seasonal changes mark the passage of time.
More than 20 advisors offer their expert opinions on how you should run your business.
No meddling government officials with their monopoly-busting anti-trust laws to get in your way.
System Requirements:
Macintosh Plus, Portable, PowerBook Family, SE, SE/30, Classic Family, LC, LC2, II Family, Quadra Family
System 6.0.5 or later; System 7 compatible
1MB RAM w/B&W; 2MB RAM w/color (2.5MB for System 7)
Hard drive required
800k disk drive
Includes:
Price: SOLD

---
A-Train Construction Kit (Floppy) Back to Boxed Games Page
Description:
If you have A-Train, then adding the A-Train Construction Set gives you a lifetime rail pass. You'll have the power to build landscapes, place tracks and trains, and develop towns and cities - without and monetary constraints.
Use any of the included examples as a starting point, or create a landscape and metropolis from scratch. You have absolute control over every patch of ground, every building, every road, train, tree, even every blade of grass. Create new A-Train game challenges for yourself and others.
Features:
Move mountains.
Create lakes, rivers, oceans, and islands.
Mark large areas and quickly fill them with fields, orchards and neighborhoods.
Modify A-Train saved games and scenarios.
Add unlimited tracks.
Run up to 27 trains at once.
Use the financial tools to add or remove cash from the game and amass a real estate Dukedom.
System Requirements:
Includes:
Box
(1) 800k disk
(1) Manual
(1) System Information and Manual Addendum
Price: SOLD

---
Bad Mojo Back to Boxed Games Page
Description:
From the creators of IRON HELIX.
Inside a seedy, dilapidated bar in San Francisco your dreams of escape are about to be realized.
But remembering one last keepsake, you are suddenly seized by its magic, and your transformation begins.
From within the damp walls of Eddie's Bar, you emerge a cockroach.
ENTER a world of perilous puzzles and bizarre perspectives.
What you discover may shock you...... What you don't may kill you.
Either way, you won't come out the same person.
You may not even come out a person at all.
Features:
More than 800 navigable screens are rendered in stunning high resolution detail.
Live action video and spine tingling music will drag you into the dark, disturbing atomsphere of BAD MOJO.
Prepare yourself...... It will take all of your skill to crawl out......
(13 and ABOVE)(ANIMATED BLOOD AND GORE; ANIMATED VIOLENCE)(STUNNING 3-D RENDERED ENVIRONMENTS)
System Requirements:
68040/33 Mhz or higher processor or Power Mac
8MB RAM
20MB available hard disk space
CD-ROM drive with a 300 KB per second transfer rate (double speed) or faster
256 colors
System 7.1 or higher
Includes:
Box
(1) CD
(1) Manual
(1) Registration Card
Price: SOLD

---
Baldurs Gate Back to Boxed Page
Description:
Baldur's Gate
(Mac) (Retail) (BALDURSGPR)
Black Isle Studios / Interplay
Game
ESRB rating: Teen (Ages 13+) - Animated blood, Mild language, Use of alcohol
Forgotten Realms
Baldur's Gate takes you back to the Forgotten Realms campaign setting on a visually dazzling roleplaying adventure, one that brings to life the grand tradition of the Advanced Dungeons & Dragons game through cutting edge art and technology. Immerse yourself in this quintessential medieval fantasy world, where nations hang in the balance of your actions, dark prophecies test your resolve, and heroic dreams can be fulfilled at last.
Huge game world - multi-CD set filled with nearly 10,000 scrolling game screens, all fully rendered in lush 16-bit SVGA graphics.
Gripping non-linear adventure that spans seven chapters, with dozens of subplots that branch in and out of the main scenario. Your decisions affect subsequent chapters and the entire game world as a whole.
Transparent interface can be modified to play in a turn based fashion, and makes it possible to play without knowing AD&D rules.
Set in TSR's best-selling Forgotten Realms campaign setting, the most popular and longest running of the Advanced Dungeon & Dragons roleplaying game worlds.
"I am Volo, and I have traveled more of these Realms than any other. I'd bet ye a bag of gold and a half-dozen kegs of bitter black ale that ye cannot look upon the murderous beasts and minions of evil in the adventure ye hold in your hand and not turn tail. So waste no more time in your drab, humdrum world - it is time to draw steel in Baldur's Gate and test your mettle. Who knows, ye may find me there waiting to pay off the bet - or propose a better one, double or nothing!"
Explore hundreds of intricately rendered buildings and structures.
Face off against more than 60 imposing monsters, including cunning hobgoblins and mighty ogres.
View characters in exquisite detail, down to skin and hair color, clothing, weapons and armor.
Invoke more than 100 spells - freeze enemies with an icy blast from a cone of cold, or incinerate them with a searing stream of magical flame.
Every building and structure is modeled and rendered in fine detail - taverns, temples, houses, arenas, stores, and brothels are meticulously created and visually stunning.
Features real-time environmental effects such as rain, snow, lightning, and fog, day and night lighting, plus dynamic full-color lighting effects from interior and exterior lamps and magic spells.
Create your character from a combination of six authentic AD&D races - human, elf, half-elf, dwarf, gnome, halfling - and 26 different classes and subclasses - fighter, thief, cleric, mage and subclasses such as druid and specialist mage.
Guide a party of up to five other characters, each with their own personalities and dispositions. Allows you to control party characters one at a time or as a group.
System Requirements for Baldur's Gate for Mac OS:

200 MHz Power MacintoshTM
Mac OS 8.1 or newer OpenGL graphics)
64 MB RAM
380 MB free hard disk space
4x CD-ROM drive
Display capable of "Thousands of Colors" (16-bit)


Recommended

350 MHz Power MacintoshTM
128 MB RAM
600 MB free hard disk space
8x CD-ROM drive
Display capable of "Millions of Colors" (24-bit).
Includes:
Box
(5) CDs
(1) Manual
(1) Map of Forgotten Realms
(1) Macintosh Quick Reference Card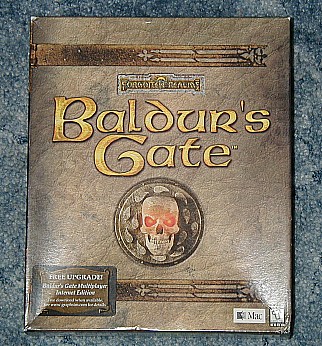 Price: SOLD

---
Baldur's Gate: Tales of the Sword Coast Back to Boxed Page
Description:
Baldur's Gate:
Tales of the Sword Coast
(Mac) (Retail) (BALDURSPJC)
Black Isle Studios / Interplay
Game
ESRB rating: Teen (Ages 13+) - Animated blood, Mild language, Use of alcohol
Continue your travels on the Sword Coast with the next set of adventures in the award-winning Baldur's Gate roleplaying game series. Legends of treasures lost and monsters to be defeated abound in the region. Almost all have at least some basis in truth. Are you up to the task? Will you return with even more fame than you accumulated in your previous travels? Or will you journey off; never to be heard from again - the source of your own legend, in turn...?
Continue your adventures with the character you created in the original Baldur's Gate.
Join up with old friends or meet old enemies - actions in the original game will impact events in this game.
Numerous improvements in the interface and the game system based on fan input.
More powerful spells, talkative NPC's, and additional enchanted items to be found.
Mutliplayer support - up to 6 players via modem, LAN, or TCP/IP.
Set in TSR's best-selling Forgotten Realms campaign setting, based on the Advanced Dungeons & Dragons roleplaying game system.
Includes Roger Wilco voice communication software to chat while playing!
System Requirements for Baldur's Gate: Tales of the Sword Coast for Mac OS:

Must have Baldur's Gate already installed on your computer
200 MHz Power MacintoshTM
Mac OS 8.1 or newer OpenGL graphics
64 MB RAM
380 MB free hard disk space
4x CD-ROM drive
Display capable of "Thousands of Colors" (16-bit)


Recommended

350 MHz Power MacintoshTM
128 MB RAM
600 MB free hard disk space
8x CD-ROM drive
Display capable of "Millions of Colors" (24-bit).
Includes:
Price: SOLD

---
Baldur's Gate II: Shadows of Amn Back to Boxed Page
Description:
Baldur's Gate II: Shadows of Amn


(Mac) (JewelCase) (BALDUR2CJC)
Publisher: Interplay / Black Isle / Bioware / Wizards of the Coast
Ages 15 and Up
Welcome to a World of Intrigue, Adventure & Fierce Combat
Every world has conflict. Good and Evil. Friend and Foe. Safety and Danger. In Baldur's Gate II: Shadows of Amn, you'll find yourself between these factions. This epic sequel to the Roleplaying Game of the Year will immerse you in a world of intrigue, adventure and fierce combat where your ability to discern the difference between these sides - with the assistance of steel and spell - determines your fate. Set in the Forgotten Realms campaign setting, Baldur's Gate II is the most stunning Advanced Dungeons and Dragons game to date.
New Features
New game enhancements include:
Create a new character or import your Baldur's Gate or Baldur's Gate: Tales of the Sword Coast character into Baldur's Gate II and continue the epic saga.
New weapons and AD&D proficiencies (including a two-weapon fighting style) create unique combat options for players.
Real-time gameplay with the ability to pause at any moment and even custom script your characters' behavior to refine your strategy.
Encounter hundreds of different types of monsters, thousands of NPCs and over 130 new spells (for a total of over 300) in a huge and intricate world.
New races and character kits such as the Half-Orc, Beastmaster, Undead Hunter and Assassin add to the extensive array of character options.
Supports 800x600 resolution, full screen mode and 3D acceleration for spectacular visual effects.
Improved multiplayer support for up to 6 players for the ultimate roleplaying experience.
Richer quests and subquests, including quests based on class, add more realism that ever-before-seen in an RPG
Requirements:
Macintosh: PowerMacintosh G3/233Mhz or faster, 128 MB RAM, 800 MB hard drive space, 4x CD-ROM drive (8x CD-ROM drive recommended), System 8.6 or higher.
Includes:
Box
(4) CDs
(1) Manual
(1) Quick Reference Card
Price: SOLD

---
Battle Chess (B&W Only) (Floppy) Back to Boxed Page
Description:
It took 2,000 years for someone to make chess better.
The most challenging game on earth comes to life in Battle Chess.
An entire medievel world at war is reflected on the checkered field.
Everyone who's ever had a knight take a pawn has seen that capture as more than one piece replacing another on the board.
In players' minds, the bold knight, resplendent in his armor of silver or ebon, sallies forth and slays the foul footsoldier.
Combat, mortal combat, is the heart and soul of chess, but this aspect of it can only live in the mind's eye . . . until now!
Lots of computer chess games capture the basics of chess.
Only Battle Chess brings chess to life by combining a magnificent chess logic system with colorful, humorous, and dramatic three-dimensional animations.

Features:
Advanced, state-of-the-art 3D animation and digitized sound effects.
Over 4 megabytes of animation
Modem capability for long distance games
10 levels of play challenge even the most sophisticated player
System Requirements:
Apple Macintosh Family
Black and white only
1MB RAM
System 6.0.2 or later
Includes:
Box
(2) 800k disks
(1) Manual
(1) Reference Card
(1) Registration Card
Price: SOLD

---
Battlefield 1942: Secret Weapons of WWII Expansion Back to Boxed Page
Description:
Battlefield 1942: Secret Weapons of WWII lets you control lethal experimental weapons from World War II. Straight from Allied and Axis laboratories, many of these weapons never saw combat until now.
Defeat your enemies with a variety of experimental firepower, including the Wasserfall Guided Rocket, the Natter Rocker Plane, and the revolutionary Rocket Pack. Drop from a cargo plane behind enemy lines and prepare for close combat with one-shot-kill knives, new machine guns, and more. Give all of these weapons and vehicles a trial by fire on eight new battle maps.
Requires Battlefield 1942 to play.
Features:
Horton HO 229 "Flying Wing"
Sherman tank with a T-34 Calliope rocket launcher
T95/T28 Super Heavy Tank
The Sturmtiger - featuring a naval gun mounted atop a Tiger tank
The American AW-52 advanced fighter
The Wasserfall guided anti-air missile
The Natter rocket plane
Top secret German prototype Rocket Pack - fly and fight at the same time
Seven new weapons include throwable one-shot-kill knives, the Bren light machine gun, the Auto 5 shotgun, and the Mauser K98 grenade rifle
Eight new World War II campaigns, including combat missions at a V2 research facility and Hitler's hideaway, The Eagle's Nest
All-new locations offer unique Battlefield experiences, ranging from nightfall in Prague to a winter battle in Norway
New objective-based mode - players must accomplish specific objectives, such as destroying a secret weapons facility, in order to win the battle
Introducing British Commando and German Elite troops
System Requirements:
Full version of Battlefield 1942 required
Operating System: Mac OS X 10.2.8 or later
CPU Processor: PowerPC G4 or later
CPU Speed: 867MHz or faster
Memory: 256 MB or higher
Hard Disk Space: 2GB free disk space
Video Card (ATI): Radeon 7500 or better
Video Card (NVidia): GeForce2 MX or better
Video Memory (VRam): 32 MB or higher
Media Required: DVD Drive
Multiplayer Requirements:
Internet and LAN (TCP/IP) play supported
Internet play requires a 56Kbps or faster connection
Includes:
Box
(1) DVD
(1) Manual
(1) Registration Card
Price: SOLD

---
Battlestations: Pacific Back to Boxed Page
Description:
The Pacific War was the part of World War II—and preceding conflicts—that took place in the Pacific Ocean, its islands, and in East Asia, between July 7, 1937 and August 14, 1945. The most decisive actions took place after the Empire of Japan attacked various countries, who together came to be known as the Allies (or Allied powers).
Experience one war through two epic sagas where you will be a part of history or change it. Feel the power of the historically authentic and decisive battles of the Pacific War. Relive some of the grandest and most critical naval battles of recent history and for the first time, choose to lead your fleet to a completely different ending to the war.
Features:

Lead the US and Japanese forces in two massive campaigns to relive or rewrite history with up to 28 missions to play through!

Command and take direct control of over 100 authentic and prototype air, sea and undersea units including fighters, bombers, kamikaze planes, cruisers, destroyers, aircraft carriers, submarines and lots more!

Experience a new level of visual realism where the Pacific Ocean and its chains of islands truly come to life. Immerse yourself in the action with the all new cockpit view and fight the enemy at day, night and in different weather conditions.

Challenge your friends in 5 completely new and engaging multiplayer modes and take part in massive online battles.
System Requirements:
Minimum Requirements
Processor: 1.4GHz
RAM: 2GB
Graphics: 256MB VRAM
Mac OS: 10.5.8
Hard Disk: 9GB
Drive: DVD
Input: Mouse
Recommended Requirements
Processor: 2.4GHz
RAM: 3GB
Graphics: 512MB VRAM
Mac OS: 10.6.4
Hard Disk: 9GB
Drive: DVD
Input: Multi-buttoned mouse
The following graphics cards are not supported: ATI X1xxx series, NVIDIA 7xxx series and Intel GMA series
Designed for Intel processors only
Includes:

Play to see condition of DVD.
Price: SOLD

---
Beach Head 2000 Back to Boxed Page
Description:


It's the Heat of Battle and You're the Primary Target!
As a lone gunner you are the last line of defense against an overwhelming onslaught of enemy fire. Keep a steady aim and blast away at land, sea, and air forces as they rush you from every conceivable direction. Engage yourself in limitless levels of white-knuckle action, stunning photo-realistic graphics and earth shaking sound effects. Clear the beach, defend your post, and pray that the supply plane comes in time!
Features:

Unlimited levels of pulse pounding action
Non-stop hardcore shooting action that simulates the drama of military conflict
Photo-realistic 3D graphics (NO hardware 3D acceleration required)
Enemy targets include jet fighters, bombers, attack helicopters, tanks, landing troops and more!
Shell-shock inducing sound and special effects


System Requirements:

PowerPC 603 225Mhz or faster, PowerPC 604 180Mhz or faster or any G3 or G4 (G3 or better with 64MB RAM is recommended)
Requires MacOS 8.1 or later
32MB RAM
CD-ROM drive
Requires QuickTime (included).
Includes:
Price: SOLD

---
Beat The House Back to Boxed Page
Description:
System Requirements:
68040 or faster processor
System 7.0 or later
3MB free RAM
10MB free hard drive space
System 7.0 or later
2X CD-ROM
Includes:
Box
(1) CD
(1) Manual
(1) Installation Guide
Price: 10.00

---
Beavis and Butthead Multimedia Screensaver Back to Boxed Page
Description:
This Is Gonna Be Cool. Huh Huh.
What the hell is a screen saver, Beavis?
Um, it's like this thing you put on your computer so like it won't explode or whatever.
Uh, huh, huh, why wouldn't you want your computer to explode?
I know, really. But check it out, Butt-head, when you're not using your computer, this thing like puts pictures of us on the screen.
Cool. If I didn't already not use a computer, I would definitely not use it just to see us, or something.
Plus there's like some videos on it, like from Prong and some other dudes.
Prong rocks. Like, if Prong was on every computer, computers would be popular or whatever.
Plus there's all these sound effects and stuff on it, and like some of the coolest things we ever said.
Whoa, huh huh, that sounds pretty, like, useful. Put it on, dude, let's check it out.
Um, we don't have a computer, Butt-head.
Oh yeah. Then don't just sit there, Beavis, turn on the TV.
Oh yeah, heh heh. Sorry 'bout that.
Features:
Screen saver, wallpaper and clock
More than 80 video clips pulled directly from three seasons of MTV's Beavis & Butt-head
4 music videos featuring Beavis & Butt-head's sick and twisted views
"Prove You Wrong" - Prong
"Three Headed Mind Pollution" - Infectious Grooves
"Snap Your Fingers, Snap Your Neck" - Prong
"Lost in America" - Alice Cooper
More than 75 sound effects including theme song, comments and conversation in .WAV Format
10 preset modules include: Air Guitar; Burger Tag; Classroom; Couch Fishing; Gardening Tips; Generation in Crisis; Hall Pass; Nachos; Spin Cycle; Stuff That's Cool
Use your favorite clips to create and customize screen save modules
System Requirements:
68020 or faster processor
System 7.0 or later
4MB RAM
5MB free hard drive space
System 7.0 or later
256-colors display
2X CD-ROM
Includes:
Price: SOLD

---
Bedlam - NEW - Back to Boxed Page
Description:
| | | |
| --- | --- | --- |
| | | Bedlam |
Mirage/GT Interactive
Game
We're Talking 3-D, Top-Down, Trigger-Happy,
Weapon-Toting, Shooting Action!
Biochemical creatures, originally created to handle menial household chores, have mutated and taken over the planet. Enter you. A hard-ass mercenary in control of a team of up to 3 heavily armed combat droids rarin' to create some BEDLAM!
Just try not to blow up the whole planet while you're saving it.
Key features:
Control 3 independent robots and fight your enemy on 3 different battlefronts
Totally interactive enviornments - blow up virtually everything in sight
Thousands of enemies, incredibly destructive weapons, numerous power-ups and puzzles
Super hi-res graphics, CD audio, 3-D spatial sound effects
Requirements: System 7.5.3, minimum PowerPC, 2x CDROM drive or better, 12MB of RAM minimum (16MB recommended), 30MB (minimum install) of hard disk space, 122MB (full install), mouse required.
Includes:
Price: 10.00

---
Beyond Atlantis Back to Boxed Page
Description:
Beyond Atlantis
(Mac) (Retail) (BEYONDATPR)
Game

Suitable for all audiences
A Fantastic New Journey Deep in the Heart of Atlantis
The appearance of the Super Nova of the Crab in the skies has awakened the light half of the force. Ten, descendent of Seth, the original Hero of Atlantis, holds within him the key to the mystery and is bound on an adventure to Tibet, where he will gradually discover his destiny from a wizened old Shaman.
From quest to celestial journey, his path will be strewn with traps and enigmas that will have to be solved to re-establish the order and balance set-up hundreds of years ago. If he fails then the dark half of the force will be triumphant and will bring back the times of chaos once again.
Atlantis II plunges you into an adventure unlike any other. Discover beautiful settings, mysterious puzzles, unusual characters and strange creatures.
The fantastic world of Atlantis awaits you:
5 massive areas to explore, from the snows of Tibet to the scorching heat of Central America and beyond.
Over 60 characters modelled in 3D with real-life movements and expressions!
Totally new Omni Sync technology gives groundbreaking synchronization of every character's facial expression and speech!
Beautiful graphics, stunning animations and atmospheric sound effects in lively and enchanting environments.
Requirements:

Macintosh: Mac OS 8.6-9.1, G3 233 MHz, 64MB RAM, 8x CD-ROM drive, 80MB available on the disc, QuickTime 4.0 (supplied on the disk).
Includes:
Box
(4) CDs
(1) Manual
(1) Registration Card and all other paperwork
Price: SOLD

---
Black & White Back to Boxed Page
Description:
Black & White
(Mac) (Retail) (BLACK&WPR)

Publisher: Lionhead Studios / EA Games

Game

Ratings:

from The Adrenaline Vault

Become the Supreme God of Your Land!

The worlds of Eden cry out for guidance. The many tribes need enlightenment, and they'll kneel before your temple to worship you as their god. As you're influence spreads, you will grow in power and learn to cast wondrous Miracles in order to protect your worshippers and dispatch your foes. You will face many challenges and embark upon mighty quests that will test even your holy powers. But with the faith of the people behind you and with the help of your saintly Creature, you will overcome those who would rule the realms unjustly. You will become supreme god of the land.

Features:

Raise a kind and gentle giant to do your bidding.
Perform benevolent Miracles and bring peace to the land.
Preside over 5 different lands from high atop your Citadel.
Seek sanctuary in a home fit for a god.

White

Congratulations! You've always seen the glass as half full, and you're already on the way to sainthood...

With qualities like these, you're well on your way to role-playing as a Good god.

As this epic tale unfolds, you can choose to create wondrous miracles, rule an empire of happy citizens and send your giant Creature to shape a world of goodness and to carry out your every will.

Black

You little devil! You've got a mean streak as long as the River Styx, and as much compassion as a lump of clay.

With qualities like these, you're well on your way to role-playing as an Evil god.

As this epic story unfolds, you can choose to rule a realm of darkness and despair with powerful miracles and godly actions. Terrorize your followers and send your giant Creature to stamp your twisted decisions on the world.
Requirements:
Macintosh: PowerPC 333 MHz or equivalent (500 MHz recommended), 128 MB RAM (256 MB RAM recommended), 4x CD-ROM drive, 750 MB free hard disk space required (1GB recommended), 8 MB VRAM Graphics Card (PCI/AGP) (32 MB or greater recommended), 3D accelerated video card, keyboard and mouse.
Multiplayer Support Requires: Internet (2-8 players): 56.6 Kbps or faster Internet connection, 1 CD per computer, 1 player per computer. Network (2-8 players): TCP/IP compliant network, 1 CD per computer, 1 player per computer.
Includes:
Price: SOLD

---
Black & White: Creature Isle - Add-On Disc - NEW - Back to Boxed Page
Description:
You can never have too much of a good thing, so if you've got Black & White, get more of it. Creature Isle is an add-on to Black & White (that means you need to have Black & White to play Creature Isle), which takes some of the best bits and turns them into a whole new world.
Take your Black & White Creature to a completely new land, to face trials, foes and tests like you never imagined before. Has your Creature got it in him - and are you good enough - to make it into the fabled, coveted Brotherhood?
If you've got Black & White, it's time to visit the Creature Isle.
Profile
The alert among you will be wondering how Creature Isle is different to Black &White. Well, we could just tell you to buy it and find out, but because we're not like that, here's what it's all about:
In Creature Isle, you must complete a number of Trials (there are more than twenty-five) to convince the members of the Brotherhood that your Creature is worthy to join them. The difference between these and the challenges of Black & White, is that the Trials are deliberately set by the Creatures - aha.
This means that Creature Isle isn't so much a test of morality, but depends more on the skills of the player (that's you). Some require thought, like hunting the invisible wolf or the outwitting of the blind hermit, others demand quick reactions and accuracy, like the tiger's cannon or the cow's bowling trial.
But that's not all... You can use your Creature to find and train a new Creature pet of his own. Between you, you'll have to rear him, teach him and decide what sort of Creature he'll grow up to be. And if you look after him well, you'll be rewarded. Training this 'pet' is also a prelude to fatherhood, as the female Creatures will watch to see if your Creature would make a good father.
None of this means that you get to shake off responsibility - you're ultimately responsible for the behaviour of your Creature and his pet, and there are still godly duties to perform. Like in Black &White, there are Followers who you must keep happy and allow to thrive. But here, you're the only god and luckily, both your Creature and his pet can help.
Key Features
Black & White Creature Isle features a whole new world, an abundance of new Challenges and a host of gameplay improvements:
Bring your Creature from Black &White, or be given a Creature with the necessary skills for you to play the land. (But you will need a copy of Black & White in order to play Creature Isle).
Your Creature gets a Creature of his own to rear as he chooses (with a little help from you).
Your Creature's 'pet' will be unique, learning, growing and acting according to you and your Creature - you can even use him to help you.
There are new Creatures to discover, including the sharp-toothed Crocodile and the mighty horned Rhinoceros.
Enter into frenzied combat with the whole range of Creatures on the Creature Isle. See new fighting styles and use special moves and powers.
Tackle some of the most fun Trials you'll ever experience.
Play games, take on fiendish puzzles of mind and might, win bonus games and even play sports, including bowling and soccer.
Find love! For the first time, the chance to meet the female Creature of your dreams. Your Creature might be smitten with her, but will she feel the same way about him? That depends...
Ultimately, win the coveted wrist bracelet - the Band of the Brotherhood - for your Creature. Players will be able to see this online and will know instantly that their opponent is highly skilled and elite.
System Requirements:


Black and White Game
Mac OS 8.6 / Mac OS 10.1.3
PowerPC G3 333 MHz
128 MB RAM (with virtual memory set to at least 256 MB)
Hardware accelerated 3D Graphics Card with 8 MB VRAM
500 MB free hard disk space
Mouse and Keyboard
Recommended System Requirements (Macintosh)
Mac OS 9.2.2 / Mac OS 10.2 or later
PowerPC G3 500 MHz
256 MB RAM
Hardware accelerated 3D Graphics Card with 32 MB VRAM
1 GB free hard disk space
Includes:
Price: SOLD

---
Black & White Platinum Pack Back to Boxed Page
Description:
Peter Molyneux's Black & White redefined artificial intelligence. The Black & White Platinum Pack contains Black & White and Black & White: Creature Isle.
Black & White
In Black & White you can be the god you want to be. Will you rule with a fair hand, making life better for your people? Or will you be evil and scare them into prayer and submission? No one can tell you which way to be. You, as a god, can play the game any way you choose.

Find out who you really are.

Black & White: Creature Isle
Bring your Black & White Creature to a completely new land, where he'll face Trials, foes and tests like never before. If he's got it in him, and if you're good enough as well, he'll make it into the fabled, coveted Brotherhood. From that moment on, he'll be different. He'll have more power. He'll be an elite, and whether you keep playing with him on the Creature Isle or take him on-line, everyone will know what he has become.
System Requirements:
G3 400MHz (500MHz recommended)

128MB of RAM

1.5GB free disk space

3D graphics card w/ 8MB (32MB recommended)

Mac OS 9.1 or Mac OSX version 10.1.3
DVD drive
Includes:
Click to see condition of DVD
Price: SOLD

---
Blind Date - NEW - Back to Boxed Page
Description:
OK, smart guy, it's time to put up or shut up. "Blind Date" is an interactive dating adventure game, and Sandi's your beautiful, but unpredictable date. With $100 in your wallet and a variety of obstacles in your way, it up to you to win Sandi's heart.

Your answers determine where the date takes you, Sandi's general mood, and the amount of money that you spend. Just point and click to the response that you like the best and away you go. Wise guy, smooth operator, sensitive, or wimpy - whatever approach you think will get the job done. You might even want to change your tactics midstream, so stay on your toes. Also, keep an eye peeled for hidden rooms and hidden women that only the savvy dater will be able to find.

So you want to speed things up and skip to the next shot? Simply click on the mouse.
System Requirements:
68030 or faster processor
System 7 or later
8MB RAM
256-colors display
2X CD-ROM
Includes:
Price: SOLD

---
Description:
Macintosh Version Only
Set in the mid-1930s, BloodRayne introduces the sexy, supernatural Agent BloodRayne. An unholy union of human and vampire, Agent BloodRayne was raised and trained by a secret governmental agency to hunt down and eliminate global evil forces. Now she must take on an occult faction of pre-Nazis and their army of vile, unearthly ghouls to prevent them from unleashing creatures of unfathomable terror onto the world.
Agent BloodRayne's lethal repertoire includes inhuman strength, spectacular leaping and acrobatic skills, night vision, zoom vision and slow-motion perception that enables her to weave in and out of bullets. By feeding off the blood of other creatures, she is able to sustain her life force, however her undying thirst for blood compels her onward until she is driven into Bloodlust where she achieves near invincibility and unstoppable lethality.
Features:
Special abilities: Suck blood for health. Use slo-mo, zoom and aura visions.
Revolutionary control: Target multiple enemies with each hand simultaneously
Fantastic acrobatic moves: Bend the environments to your will.
MATURE

Blood and Gore
Strong Language
Violence
System Requirements:
MacOS X 10.2 (Jaguar) or later
PowerMac G4/iMac G4/eMac/PowerBook G4
733 MHz or faster
256MB of RAM
Hard Drive with 2GB minimum free space
Graphics Acceleration Required (Radeon or GeForce strongly recommended)
32MB of video required
Includes:
Box
(2) CDs
(1) Manual
(1) Registration Card
Price: SOLD

---
Description:
Are you ready for some off-the-wall fun!?

Blast through pyramids, castle walls, barnyard obstacles and much more in this all-new edition of the arcade classic. Use your paddle to aim the ball and blast your way through dozens of new levels. Let nothing stand in your way in this highly addictive 3-D interactive experience. Capture prizes and create as much chaos as you can! It's great fun and competitive action for fans of the original and newcomers alike!

Game Features:
· Exciting new power-ups and surprises
· All-new 3-D interactive worlds and levels
· Competitive single or multiplayer action
· Addictive fun for the whole family
· Fun for up to two players
System Requirements:
· Macintosh G3/ 233MHz or faster
· Mac OS 8.5 or higher
· 32MB free RAM
· 350MB hard drive space
· ATI Rage Pro or better video card with full support of Apple's OpenGL
· Requires OpenGL and Gamesprockets (included)
· Will run on any iMac Rev B or higher, or any iBook

Includes:
Box
(1) CD
(1) Manual
(1) Registration Card
Price: SOLD

---
Bungie Mac Action Sack Back to Boxed Page
Description:
Mac Action Sack, an affordable compilation of six action titles, including:
Pathways Into Darkness
Minotaur: The Labyrinths of Crete
Abuse
The entire Marathon saga

These games, an essential part of any serious Mac gamer's collection, will provide countless hours of single-player and multiplayer excitement at an "impulse buy" price.

Requirements:
68040 or faster Macintosh
8-bit (256) color monitor
System 7.0 or later
4 MB RAM
CD-ROM drive
Includes:
Action Sack
(1) CD
NO manual; on-line manuals only
Price: SOLD

---
Description:
BURN: CYCLE
by Philips Media
Cinematic adventure game meets Blade Runner-style action.
Here are excerpts from Game Revolution's web review, where they gave the game an "A-":
"Cutter braced his back against the cool concrete wall that formed one half of the hallway leading to his hotel room. Gun leveled, he struggled to keep his burning sweat from running into his eyes and ruining his aim. Nowhere to turn, nowhere to run, and all the while one thought kept crashing through his mind: "I'VE ONLY GOT NINETY MINUTES LEFT TO LIVE."
Sol Cutter thought he was just making a routine data run into Softech Industries, but instead of getting away clean and simple with some stolen goods, a wetwired burn:cycle virus was implanted in his brain, and he now has but two hours left to figure out who did this to him and why, before he drops dead with no questions answered and none more to ask.
So begins BURN:CYCLE, Philips' CD-ROM action adventure game for the PC and Macintosh. Remind you of any...Hollywood cyberflicks? I thought so.
Typical of the new breed of mind-boggling adventure games, BURN:CYCLE incorporates a lot of video sequences and live actor voices to tell the story of an infoburgler who's in deeper than he's ever been before. Environments...all morph smoothly as Cutter navigates through the corrupt, decaying city of the future in a Quicktime VR-type effect. The result is a highly-believable landscape that thoroughly engulfs the player. You are Cutter, and you don't have that long to live.
The puzzles that make up the challenge of BURN:CYCLE are not your run-of-the-mill quests to find the magical potion to turn a frog back into a prince, but they take...brainpower to solve, as well as a lot of trial and error. Yet even as you study the floating karmic shapes or flying game pieces, the ever-present virus clock keeps ticking away the precious second's of Sol Cutter's life. And through it all, everything has that slightly twisted and surreal Cyberpunk feel to it.
BURN:CYCLE [has] an approach so sorely missed by hundreds of game titles out there. Simple to play but difficult to win, the game refuses to be put down for long. Every character has genuine personality to him or her, which completes a very well-crafted universe. So, how much longer do you have left to live?"
Requirements:
Requirements: PC - 486/33 MHz or higher microprocessor; Windows 3.1/95/98/Me; 8MB RAM; 2X CD-ROM drive; 256 Color VGA monitor; sound card
Requirements: Macintosh - 68040 or PowerPC processor; System 7.0 or higher; 5MB RAM; 2X CD-ROM drive; 256-color monitor (640 x 480)
Includes:
Box
(2) CDs
(1) Manual
Mission Paperwork
Price: SOLD

---
Celtic Kings: Rage of War Back to Boxed Page
Description:
Celtic Kings is a real time game that blends strategy, role-playing and adventure elements. There are two modes of playing the game that complement each other – adventure mode and strategic mode.

In strategic mode, you play against computer opponents or other players on the Internet exercising your strategic and tactical skills to achieve objective victory. You train and command many units, hire and develop heroes, acquire powerful artefacts and conquer strongholds and villages. Launch large-scale military campaigns against your foes to bring them to their knees. The game-play in this mode is similar to the traditional RTS gameplay.

In adventure mode, you control a party of heroes and explore the world as the struggle between Caesar and the Gaul chieftain Vercingetorix evolves. Which side you will support? Will you betray your allies of yesterday? Will you follow the mysterious druids as they request your assistance? Command strongholds and large armies; take risky missions behind the enemy lines. Find powerful artefacts to support you. Make friends and foes as you try to reveal who are you and who you want to be.

The Beginning
At the day of the spring equinox, a swarm of riders flooded the land. Help was neither wanted nor given, and each of the proud tribes stood for itself. One by one, many strongholds fell to the Dogs of Death and paid their toll of blood. Where the force was not enough, treachery was used. And thus fell Kormaris. Children were screaming and women were killed before their beloved. In a moment of deep grieving a desperate man swore an oath at a sacred place – "She of the War, I adjure you to give me revenge! Every life I shall take I devote to you! Give me the power I need!" And in his outburst of anger, he wove his destiny. And the destiny of many others …

The Setting
The adventure takes place in the Gaul lands during Caesar's conquest of Gaul. Four main forces have strong and conflicting interests in the area. The struggle between them defines the world of Celtic Kings. First, there are the Gauls. They are numerous and brave but separated tribes. They fight in their own lands but often among themselves. Their pride and religion often gets in the way to victory. The lack of unity makes them weak as never before.

Rome is a mighty state with progressive social order and advanced military knowledge. Its social structure requires constant expansion wars. Julius Caesar's brilliant leadership, however, makes Rome a deadly enemy. He seeks to conquer Gaul for glory and fortune in his quest to become the sole leader of Rome. The Teutons represent the united German tribes. They cross the river Rhein every year, seeking to expand their influence or simply to plunder. They are a fearsome and numerous force, but they do not have long-term plans for conquest and expansion. They seek fortune and glory through victory and self-gratification.

The mysterious Druids wield horrifying and ancient powers. A few of them are enough to stop a full-scale army. They weave the patterns that make nations prosper and states decay.
Features
Large world consisting of many maps that the player can navigate at will
Integration of character development and major battles
Combined RTS and RPG experience
Numerous characters and conversations
High-quality pre-rendered movies
Two sides to play with – Roman and Gaul
LAN and Internet games with up to 8 players
Random map generation
In-game scenario/adventure editor
Off-line ranking system
Large maps with up to 32000x32000 pixels
Support for 5000 units on the map
Intelligent unit behavior controlled by scripting language
Human-like AI opponents with different personalities
Exceptionally detailed mini-map
Support for 1024x768 or 1280x1024 with thousands of colors
Textured 3D terrain with lighting that allows landscape views of unique quality
Three different seasons selectable for any map
Total of 45 different units with many animations
Numerous buildings and objects to enrich the world
Screenshots:
System Requirements:
OS X Jaguar 10.2 or later
Recommend G3 800MHz or faster for best performance
16Mb RAM (64Mb recommended)
8Mb video memory (16Mb recommended)
Includes:
Price: SOLD

---
Incredible Toon Machine, The (Floppy) Back to Boxed Page
Description:
Includes:
Box
(2) 1.4MB floppy disks
(1) Install Guide
Price: SOLD

---
Leisure Suit Larry: Passionate Patti Does a Little Undercover Work (Floppy) Back to Boxed Page
Description:
SEX, THUGS & ROCK n ROLL!
They are back in the silliest, sexiest adventure ever. Larry teams up with Passionate Patti for a rolicking gender-bending romp through the sleazy underside of the underworld.
SWITCH SEXES ON THE FLY!
Yes, every time you take a plane ride, you'll switch back and forth between Larry and Patti. Double the trouble, double the fun.
IT'S LARRY & PATTI vs. A GALLERY OF GOONS!
Passionate Patti is a fledgling spy for the FBI sent to ferret out corruption in the music industry. Larry, Cult-Hero of the Computer Age and certified fashion disaster is busy auditioning hostesses for TV's syndicated steam-fest, Americans Sexiest Home Videos. But Watch Out! The Mob wants to get pornography off the airwaves and back onto their balance sheet. Help Larry & Patti take on organized crime, the FBI, and Citizens Against nearly Everything! Its the sauciest, spiciest Leisure Suit Larry computer caper yet!
FANTASTIC SEXY ADVENTURE........ ITS A BLAST!
Features:
Original music scores by Hollywood Emmy nominee Craig Safari.
Amazing and outrageous animation!
No-typing 'grope and click' interface for quick-feel, one-hand action scoring.
It is also the first Larry game to include the now-famous Bodily Function Keys.
System Requirements:
68020 or faster processor
System 6.0.2 or later
1.4MB floppy drive
5MB free hard drive space
2MB free RAM
256-colors display
Includes:
Box
(7) 1.4MB disks
(1) Manual
All paperwork except Registration Card
Price: SOLD

---
Leisure Suit Larry: Shape Up or Slip Out (Floppy) Back to Boxed Page
Description:
Leisure Suit Larry 6
Shape Up Or Slip Out!
PLAY THIS GAME. PLAY IT HARD.
Imagine being stranded in a luxurious resort, surrounded by NINE - COUNT 'EM - NINE breathtakingly beautiful babes. Imagine throwing them your best pick-up lines, watching them melt with anticipation and desire. Imagine them dragging you to their soft, secret boudoirs, panting in your ear, ripping at your expertly tailored white polyester leisure suit, taking you to all-new passionate places before they...

Nah. On second thought, imagine you're Leisure Suit Larry.

The most popular nerd in the history of computer gaming is back. This time he's won a two week vacation at a wacky, Toon-toned resort, filled with heartachingly realistic babes.

IT'S BIGGER: More jokes, more gags, more objects, more challenges, and more silly, sexy situations!* Snoop around dozens of loony locations and meet lots of animated characters.

IT'S LONGER: Help Larry on his quest to conquer nine intensely beautiful women, all rendered in an amazingly life-like fashion. Each of them has a secret desire (wink, wink) and it's up to Larry (and you) to satisfy them.

IT'S HARDER: More prurient puzzles, more bawdy brain teasers, more trashy inventory items, and more hilarious mishaps than ever!

And it's packed with all the revolutionary, earth-moving features you've come to expect from a Leisure Suit Larry game:
More beautiful, bodacious babes!
More jokes, puns, gags, and babes than ever before!
Bigger, brasher, more breathtaking babes!
Did we mention the BABES?
WARNING:
Rated by V.R.C.
MA-17
Not appropriate for minors.
Mature Audiences
Requirements:
8-Bit (256) Color
Hard Disk with 10 MB available
1.4MB disk drive
4MB RAM
System 7.0.1 or later
68040 processor


Supports:
Mac Sound, Roland MT-32 & CM-32L, General MIDI


Includes:
Box
(6) 1.4MB disks
(1) Manual
(1) Macintosh Manual Addendum
(1) Girls of Leisure Suit Larry 1994 Calendar
Price: SOLD

---
Leisure Suit Larry 7: Love for Sail! Back to Boxed Page
Description:
Everybody's favorite lounge lizard is back, and tackier than ever! Fabulous SVGA animation brings Larry to life as he pursues the bountiful babes of the cruise ship PMS Bouncy. Will Larry find the woman of his dreams? Will he finally be swept off his feet by Ms. Right? Or will he just be swept overboard by a really big wave and get sand in his shorts? Find out in the latest installment of this unmentionably popular series by humorist Al Lowe!
Features:
The first game to feature Scratch 'n Sniff. Some odors help solve puzzles, others are just for fun.
The first game with a cameo appearance by the player. We provide a template and tools; you provide your picture and voice.
Supremely easy, invisible interface makes for simple one-handed mousing.
Text returns! In Love for Sail you have the option to type something in and receive a smart-ass remark - just like the early days of Larry.
No more long, boring walks between interesting areas. Go immediately to your destination of choice.
System Requirements:
Minimum Requirements:

68040, 33 MHz
2X CD-ROM
16MB RAM
System 7.1+, 25MB hard drive space
Sound Manager 3.1+
640 x 480, 256 colors

Recommended:
Includes:
Price: SOLD

---
(America's Greatest) Solitaire Games Back to Boxed Page
Description:
We asked dozens of solitaire fanatics to help us design the perfect solitaire package. Absolute Solitaire is what they created.
The interface is fast and responsive. Everything works the way you think it should. Want to know all your available moves? Just hold down the option key. Want to know where the visible aces are? It's easy! Plus, you can Redo All, Undo All, get interface shortcuts, change card and background graphics, time yourself to beat your best games, and customize tons of game options.
Included are plenty of challenging tactical games for the expert plus some easier ones for beginners. And, you can get online instructions for any game at any time. If you're looking for a solitaire package designed for outstanding solitaire game play, try Absolute Solitaire!
System Requirements: Any Macintosh running system 7.0
or higher with at least 4MB RAM.
Includes:
(1) NEW shrinkwrapped box
Price: SOLD

---
Space Quest IV Back to Boxed Page
Description:
Rogers old 'friend' Vohaul is back, and Roger goes on an odyssey through several Time eras - including Space Quest XII, Space Quest X and a short visit back to Space Quest I (with authentic SQ1 graphics -- he actually gets in trouble in a bar because a couple of guys don't like his 256 color attitude).
At the end, he beats Vohaul -- helped by his (yet unborn) son, Roger Jr., and returns to his own time and SQ4.
System Requirements:
Mac II Series, LC, LC II
2 MB RAM under 6.0.5; 4 MB under 7.X
256-Color or Grayscale
1.4MB floppy drive
Includes:
Box
(7) 1.4MB floppy disks
(1) Manual
Price: SOLD

---
Star Wars Screen Entertainment (Floppy) Back to Boxed Page
Description:
Remember the edge-of-your-seat space battles, the Millennium Falcon zooming into hyperspace, the motley aliens in the cantina, and the heroes: Luke, Han, and Leia struggling against the Empire?

This is not just screen savers, but a fantastic compilation of screen savers, digital movie posters, and animation.
Action-packed modules of thrilling space battles, lightsaber duels, hyperspace and the Death Star trench run.
Facinating trivia: character and alien biographies and starfighter blueprints.
John Williams' riveting musical score.
Stand-alone product compatible with some intermission and some After Dark modules.
System Requirements:
Minimum

Computer: Apple Macintosh LC III or higher.
Operating System: Mac O/S version 7.0 or higher.
CPU: 25MHz 68030 minimum.
Memory: 4 MB RAM required (with 2.4 MB free RAM available).
Graphics Card: 256 color 13" or larger display required.
Input Device: Mouse and keyboard supported.
Includes:
Box
(5) 1.4MB floppy disks
(1) Manual
(1) Macintosh Reference Card
Price:SOLD

---
Syndicate (Floppy) Back to Boxed Page
Description:
Includes:
Box
(5) 1.4MB floppy disks
(1) Manual
(1) Macintosh Reference Card
Price: SOLD

---

---
Return to my homepage
---