---
Monopoly Back to Software Page
Description:
Get ready to wheel and deal, right on your Mac! See what Boardwalk and Park Place really look like. Watch your animated 3D tokens hop, skip and race around the board. Your mission, as always-try to stay out of jail, and bankrupt your opponents!
Being sent to jail has never been this much fun! Buy the Monopoly CD-ROM now and delight in the amazing animation as you play the challenging Artificial Intelligence characters!
Game Features:
Over 800 colorful and cool 3D animations.
18 original musical scores and sound effects.
Choose up to 6 human or computer opponents.
Customizable game play even allows cheating!
Play world wide over the Internet!
System Requirements:
68040/25 Mhz w/8MB RAM
CD-ROM Drive (double-speed) (4X recommended)
System 7.5 or higher
Color Monitor (640x480, 256 colors).
Includes:
(1) CD
(1) User Guide/Manual
Price: 15.00

---
Monopoly (2000) Back to Software Page
Description:
What do you get when you cross Atlantic City, Park Place and Baltic Avenue? You get the world's most popular board game and it has just been brought to life! Play it your way with Hasbro Interactive's Monopoly game for the Mac, in live action 3D where fully animated tokens respond to dice rolls as they hop, skip and race around the board energetically.

With all new graphics and animation over the first Monopoly title, this revision will take you on a real estate tour-de-force. Play against the computer or have fun with up to six human players. You can even challenge yourself with others over the Internet using Microsoft's MSN Gaming Zone.

The classic board is alive and well in Monopoly as is the entirely revamped 3D board with the ability to customize your very own! Use the provided clip art or your own images to create a town or theme the whole family can enjoy. Or select from ten different city versions included in the game and play using their familiar landmarks! Have fun landing on: Atlanta, Boston, Chicago, Dallas, Los Angeles, New York, San Francisco, Seattle, Toronto and Washington D.C. You can also get right into the game by enabling the Quick Game rules.

Original music scores and realistic sound effects keep the game moving and add detail to the 3D animated tokens. And what about real estate, you ask? Buy, trade and sell properties in a whole new dimension. Simple click and drag controls let you manage your money in a realistic fashion. Go ahead and mortgage that house. Better yet, buy it if you can afford it. Become the winner when you're the richest player left standing!

Custom options allow you to set the number of houses, hotels, Free Parking Jackpot amount, initial cash, salary for passing GO, income tax rate, income tax amount and even luxury tax. Set the Auction Time Delay where Mr. Monopoly waits for further bids before saying "Going once..." Collect double money for landing on GO.

For Mac


Screenshots:
System Requirements:
Any Macintosh w/225MHz or faster processor
64MB RAM
MacOS 8.1 or later
5MB free hard drive space
CD-ROM
Includes:
Price: SOLD

---
Morpheus Back to Software Page
Morpheus
(PC/Mac)
Soap Bubble Productions / Piranha Interactive Publishing
Game / Adventure
ESRB Rating: Teen - Animated violence, mild language
A World Where Dreams Never Die
In Morpheus, you play an arctic explorer desperately intent on solving the mystery of his father's disappearance, some 30 years earlier. You discover a mysterious ship, the Herculania, stuck and seemingly lifeless in the ice. You board and explore the vessel.
Consumed by twisted and hallucinogenic visions, you se out to learn the mystery of the ship's passengers. In doing so you are enveloped in a world of danger, mystery and intrigue.
Live action video in virtually every scene intensifies drama, suspense and realism.
3 hybrid CDs packed with huge, immersive gameplay.
High quality sound effects, original music scores and full motion video sequences.
Employs breakthrough virtual reality technology with seamless, 360 degrees of movement and freedom.
An epic arctic adventure, four years in the making.
Addictive gameplay that'll have you sacrificing your own dream time for morpheus time.
Imagine a World Where You Died But Your Dreams Lived On
The Herculania's maiden voyage has gone very awry and 6 passengers remain trapped aboard. Their bodies have been stored in the Neurographicon, a pod-like machine that preserves dreams forever.
Upon exploring each pod, you experience the passenger's tragic lives through dreams, ghosts and visions and are transported to 6 graphically exquisite worlds. The clues gained from exploring each of these worlds brings you one step closer to solving the mystery of your beloved father's disappearance.
Full 360° movement and smooth animation
Multiple worlds and environments to explore
Immersive and engrossing storyline
Surreal dreamlike gameplay
Requirements:
Macintosh: PowerMac, 8MB RAM, quad speed CD-ROM drive, 640x480 display (256 color or higher), System 7.5 or higher.
Windows: Pentium®, 8mb RAM, 4x cd-rom, 256-colors display, windows® 95, windows® compatible sound card and mouse
Includes:
Price: SOLD

---
MTX: Mototrax for Macintosh Back to Software Page
Game info:

Experience the ultimate motocross racing experience featuring legendary phenom Travis Pastrana delivering total access to the world of racing and freestyle motocross. MTX: Mototrax offers the greatest diversity of challenges and the freedom to choose where you'll go next!
Special Features:
Developed by Left Field, creators of Excitebike - the first and only great motocross game to receive the highest average score in the genre.
Featuring Travis Pastrana - legendary racer and freestyle rider, X-Games commentator and personality - and 14 other top pro riders.
Fast-paced realistic racing action on a variety of Supercross and Motocross levels.
Total Access on Mototrax Career mode offers non-linear game progression. You choose what to do next based on how much money you've earned from previous contest wins to pay for trips, contest entry fees as well as upgrades to bikes and gear.
System Requirements:
PowerPC G4/G4, 1GHz or faster
256MB free memory
1.4GB hard drive space
System 10.2.8 or greater
32MB VRAM
Includes:
Price: 15.00

---
Myst for Macintosh Back to Software Page
Game info:
You've stumbled across an old battered book, picked it up and found yourself transported to an alternative reality, a surrealistic adventure game called Myst--a world unlike anything you've ever seen before. As you explore this world, you'll learn that Myst was created by a man who perfected an amazing art of writing books that transport readers into fantastic worlds.

But something has gone terribly wrong. As you explore this world, you find it eerily empty. What happened to the man who created Myst and the people who once lived there? It's up to you to untangle the terrible web of deceit that has been spun across the world of Myst.

Broderbund
System Requirements:
68020 or faster processor
System 7.01 or higher
4MB RAM
2X CD-ROM
256-colors display
Includes:
(1) CD
(1) Manual/User's Guide
Price: 15.00

Myst 10th Anniversary Edition - DVD Back to Software Page
Descriptions:
Myst® 10th Anniversary Collection -- DVD

Platform: PC/Mac

| | | | | |
| --- | --- | --- | --- | --- |
| ESRB: | | | | |
This collector's edition includes Myst® Masterpiece, Riven™, and Myst® III: Exile, re-engineered to be fully XP compatible. This is the first Myst compilation to become available on DVD format. Immerse yourself in the stunning beauty of the Myst adventures. Explore numerous ages, follow dramatic story lines, and solve mind-bending puzzles. Celebrate the 10th anniversary of this unstoppable brand! Product includes an exclusive 10th interview with Rand Miller, as well as footage from the making of Myst III: Exile and Riven.
Myst Masterpiece: In this acclaimed first adventure, join Atrus as you discover the secrets of the D'ni™ civilization. Remastered to include an electronic hint guide.
Riven: Sequel to Myst: Immerse yourself even deeper in a world cursed by bewildering rifts in time.
Myst III: Exile: Sequel to Myst and Riven: A story that unfolds 10 years after Riven, featuring a complex tale of betrayal and revenge. Features 360-degree view at every location.
Game Features:
First Myst compilation available on DVD format: Great for collectors, includes full game versions of Myst Masterpiece, Riven, and Myst III: Exile.
Re-engineered to be fully XP compatible.
Includes exclusive 10th Anniversary interview with Rand Miller, as well as footage from the making of Myst III: Exile and Riven.
All three games on DVD are both PC and Mac® compatible.
Special 10th Anniversary packaging.
System Requirements:
Operating System: Windows® 98/XP (only); Mac OS® 8.1/9.1 (not OS X native, except Myst III: Exile)
Processor: 233 MHz Pentium® II or 300 MHz K6-2 or faster; 233 MHz G3 processor or faster
RAM: 64 MB RAM (256 MB recommended for XP)
Video Card: 8 MB DirectX® 9-compatible video card supporting 32-bit color; 6 MB video card supporting millions of colors (3D acceleration optional)
Sound Card: DirectX 9-compatible sound card
DirectX Version: DirectX 9 (included on DVD)
DVD drive
Hard Drive Space: 400 MB disk space (to minimally install all three products at the same time)
Monitor: 640x480 resolution; 32-bit/millions of colors
QuickTime: Version 6 or higher required (included on DVD)
Screenshots:
Includes:
(3) DVDs
(1) Quick Start Card
NO true Manual; .pdf Manuals on each DVD
Price: SOLD

---
Myst Masterpiece Edition Back to Software Page
Myst Masterpiece Edition

(Mac) (Jewel Case) (MYSTMASTPR)
Publisher: Cyan / RedOrb
Game
ESRB Rating: Everyone
Updated Version. New Features.
Alone on a mysterious island, you set out to explore its grandeur and mystery. Here a chilling tale of intrigue and injustice, defying all boundaries of space and time, is being told.
Summon your wits and imagination about you. Every scrap of paper and ambient sound may provide the vital clues which allow hidden secrets to unravel before you. Each discovery you make and each puzzle you solve will lead you one step closer to reversing a wrong that has gone unchecked for ages.
Experience a first-person point of view with no distracting controls or windows.
Combine keen observation and logic to unlock the secrets of Myst.
Explore eerie worlds of starkly fantastic beauty.
Masterpiece Edition New Features:
Every graphic element has been upgraded to brilliant 24 bit color
New sound effects and an original soundtrack enhance the sense of realism
Digitally remastered music heightens the gameplay experience
Larger and higher quality movies and animations
Proprietary DigitalGuide help system assist players of every skill level
The DigitalGuide
The DigitalGuide is like having your very own guardian angel to assist you in unraveling the mysteries of Myst. It tailors advice to your style of play. The result is a more accessible and less intimidating game for players of all levels.
Access the DigitalGuide's three levels of hints to help solve puzzles.
Level 1 - Steers you in the right direction by offering general observation.
Level 2 - Offers more focused assistance, but will still require some solving on your part.
Level 3 - When you're completely stuck, you can find the solution here.
Requirements:
Power PC, System 7.5.5 or later, 16MB RAM (32MB recommended), minimum 75MB hard disk space, 4x CD-ROM drive or faster, 640x480 display, 24 bit color or better, QuickTime 4.0 or higher.
Includes:
Price: SOLD

---
Myst III: Exile Back to Software Page
Myst III: Exile
(Win 95/98/Me/Mac) (JewelCase) (MYST3DJC)
Publisher: Presto Studios / Ubi Soft
The Perfect Place to Plan Revenge
Experience the stunning sequel to Myst and Riven, a complex tale of betrayal and revenge that only you can successfully unravel. Myst III: Exile plunges you into an adventure so real, you'll forget it's a game.
`The idea that someone may be linking into my study, reading all of my books, disturbs me..'
Return to this strange and wondrous universe, where books become portals into worlds, and where the lessons of the past, may yet hold meaning for today...
A New Villain Hungers for Revenge
MYST III: EXILE introduces a new villain, a bitter man whose home world was destroyed by Sirrus and Achenar, the sons of Atrus and Catherine, whom players originally encountered in Myst. Played by Academy Award nominee Brad Dourif (One Flew Over the Cuckoo's Nest), the villain has been hiding on Atrus' Ages, awaiting his chance to gain revenge.
Inadvertently, Atrus himself has provided that chance. He and Catherine have reestablished contact with the D'ni, a race of people whose knowledge enables them to write the special linking Books first encountered in Myst. Atrus hopes to see D'ni civilization restored to its full potential, and his efforts to do so provide the perfect impetus for a man whose heart seems bent completely on revenge.
The player must track the villain through several surrealistic Ages, navigating puzzles to uncover the truth behind this new adversary. Only then can disaster be averted, and the fate of thousands ultimately determined.
Five New Ages to Explore
Building on the surreal style of Myst and Riven, Myst III: Exile features five fantastic worlds for players to investigate and explore, including:
Tomahna
Atrus and Catherine's new home, Tomahna sits like a flowering oasis at the edge of a rolling desert landscape.
J'nanin
Sometimes described as a rock-climber's paradise, J'nanin is an elliptical-shaped island in which towering granite cliffs and strange, tusk-like formations surround a freshwater caldera.
Voltaic
Voltaic is a dusty world of sand and sky, water and wind; a place where strange obviously manmade constructions poke out of an otherwise dry and desolate landscape.
Amateria
A sweeping mechanical wonderland in the middle of an endless black sea, Amateria's terrain combines basalt columns and geyser-formed mud pots with some of Atrus' most sophisticated inventions.
Edanna
Possibly inspired by dreams of paradise lost, Edanna is best described as an inward-growing tree whose massive, hollow trunk creates the perfect growing environment for a variety of exotic plant and animal ecosystems.
Game Features:
Free look Movement System - 360° views of astonishingly beautiful worlds
Puzzles gradually reveal mystery and intrigue as they are sold
A pivotal new chapter in the Myst series
Five entirely new Ages to explore
Hours of new mysteries to uncover
Dramatic new storyline
Rich music and riveting cinematics
Requirements:
Windows 95/98/Me: Pentium II 233 MHz or faster, 64 MB RAM, 200 MB free hard disk space, 4x CD-ROM drive or faster, 640 x 480 High Color monitor, optional 3D Hardware acceleration.
Macintosh: 233 MHz G3 Processor or faster, MacOS 8.1 or higher, 200 MB free hard disk space, 4x CD-ROM drive, 640x480 display with thousands of colors, 6 MB video card recommended.
Includes:
Price: 15.00

---
Myst IV: Revelations Back to Software Page
Description:
Journey into a world of mystery and beauty as you piece together the secrets of a shattered past. In Myst® IV Revelation, the next chapter in the greatest adventure saga of all time, you'll travel through environments pulsing with life to unearth a treacherous scheme involving two of Myst's most sinister villains.

Features

Unravel an intricate mystery: Solve elusive puzzles and enlist the help of others as you uncover secrets left buried since the original Myst.
Adventure through rich and vital worlds: Myst's astonishing new visuals will enthrall you with opulent landscapes brimming with life, while tense, live-action cut scenes draw you deeper into the labyrinthine plot.
Original song by Peter Gabriel: Drift away on an ambient soundtrack composed by Jack Wall and a special contribution by world-renowned artist Peter Gabriel.
Record your discoveries: Capture clues by taking original photographs of Myst's lush environments, and keep track of your explorations in your in-game journal.
Bring along a guide: Take advantage of the optional multi-layered help system, including illuminating flashbacks and an intuitive Zip mode that transports you from place to place.
Screenshots:
System Requirements:
PC System Requirements:
Supported OS: Windows® 98SE/2000/Me/XP (only)
Processor: 700 MHz Pentium® III or AMD Athlon™ or better (Pentium IV recommended)
RAM: 128 MB RAM (256 recommended) (256 MB required for XP)
Video Card: 32 MB DirectX® 9-compliant video card (64 MB recommended) (see supported list*)
Sound Card: DirectX 9.0-compliant sound card
DirectX: DirectX 9.0 (included on DVD)
DVD: 4x DVD or faster
Hard Drive Space: 3 GB free
Display: 800x600 display
*Supported Video Cards at Time of Release
ATI® Radeon™ 7000 to 9800 or better
NVIDIA® GeForce™ 1/2/3/4/FX families
Matrox Parhelia™ (PC only)
Intel® i865G to i915G (PC only)
Laptop models of these cards not supported. These chipsets are the only ones that will run this game. Additional chipsets may be supported after release. For an up-to-date list of supported chipsets, please visit the FAQ for this game on our support website at http://support.ubi.com.

Mac® System Requirements:
Supported OS: OS X 10.2, 10.3 (only)
Processor: 700 MHz or better, G4 (G5 recommended)
RAM: 128 MB RAM
Video Card: 32 MB video card (64 MB recommended) (see supported list*)
Sound Card: Standard
QuickTime: Version 5 or higher
DVD: 4x DVD or faster
Hard Drive Space: 3 GB free
Display: 800x600 display
*Supported Video Cards at Time of Release
ATI® Radeon™ 7500 to 9600 or better
NVIDIA® GeForce™ 2/4/FX families
Laptop models of these cards not fully supported. These chipsets are the only ones that will run this game. Additional chipsets may be supported after release. For an up-to-date list of supported chipsets, please visit the FAQ for this game on our support website at http://support.ubi.com.

NOTICE: This game contains technology intended to prevent copying that may conflict with some DVD-RW and virtual drives.
Includes:
Price: SOLD

---
Myth: The Fallen Lords for Macintosh Back to Software Page
Myth:
The Fallen Lords
(Mac) (JewelCase) (MYTHJC)
Bungie
Game
ESRB Rating: Mature (Ages 17+) - Animated blood, gore and violence
Ratings:
90% from PC Gamer - Editor's Choice - 1997 Best Real-Time Strategy Game
8 from boot Magazine
...Seeking Not to Conquer, But to Destroy...
Myth: The Fallen Lords is the first real-time strategy game set in a truly 3D world.

For the first time a game of battle actually looks and feels like you're down in the trenches, hand-to-hand with the enemy. The game's 3D engine supports an ultrarealistic physics model, so that arrows arc gracefully and bounce off armor and limbs fly through the air trailing gore.

No detail is spared in bringing the action of a fantasy battlefield to bloody life, and the unrestricted point of view lets you rotate, zoom and view the carnage from any angle.
You command many types of warriors, from a handful to hundreds at a time, who battle with fire, steel and supernatural powers. Their enemy: the Fallen Lords, a band of ancient and terrible sorcerer-generals who lay waste to the land with legions of vicious beasts and the tireless undead.

Surviving them requires quick reflexes, tactical cunning and ruthless determination. You must use the terrain to your advantage, maintain discipline over the troops and deal with the mounting horror as the eternal cycle of mythic bloodshed begins anew...
Stunning Landscapes
A wide variety of smoothly sloping 3D terrains are the setting; rainy swamps and thick forests, ruined cities and snowy mountain passes, landscapes as deadly as they are beautiful.
Fortified with Realism
The ground is charred and cratered by explosions, water splashes and reflects your passage, dropped weapons and scraps of armor litter the battlefield, explosions ripple the ground and heads roll downhill.
Unrelenting Gameplay
The troops are yours to charge and retreat, wheel through maneuvers and charge into the bloody fray. Flexibility and discipline are key to survival.
Multiplayer Mayhem
Get on bungie.net for free Internet multi-player games against friends, enemies and total strangers: King of the Hill, Capture the Flag, territories and many more, even in teams.
A Legendary Saga
A rich and complex story unfolds, illustrated with strategic maps and movie-quality animated clips. Battle betrayal in your own ranks while rivalries amongst the Fallen strengthen your hand and ancient myths return to life.
Requirements: PowerPC Processor, System 7.5 or greater, 16MB RAM (32MB recommended), high color (16-bit color) capable video card, 4x CD-ROM drive.
Multiplayer Options: bungie.net - Internet connection at 28.8 bps or greater. TCP/IP - Internet connection or local area network running TCP/IP.
Includes:
Price: 5.00

---
Myth II: Soulblighter for Macintosh Back to Software Page
"Twice as good: Soulblighter returns...
Myth II: Soulblighter boasts numerous improvements to the game engine and added features that improve gameplay.
In Myth II destruction reigns supreme. Castle walls will crumble under a barrage of Dwarven mortar fire. Drawbridges will lower before your besieging army. Flaming arrows will rain down from battlements, lighting the ground beneath you. Dark wizards will hurl deadly sorceries at your ranks, scattering even your bravest warriors.
Myth II: Soulblighter is a unique strategy game, set in a 3D world of dangerous alliances and ancient evil, where all beings tremble before the wrath of Soulblighter, cruelest and most cunning of the evil Fallen Lords."
---
System Requirements:
Windows:

Windows 95/98/NT 4.0
133MHz Pentium processor (200MHz recommended)
32MB RAM
High Color video card
4X CD-ROM

Mac OS

System 7.5 or greater
100MHz PowerPC/601 processor (120MHz/604 recommended)
32MB RAM
16bit display
4X CD-ROM
Includes:
(1) CD - Version 1.1
NO Manual
Price: 10.00

---
Myth III: The Wolf Age Back to Software Page
Description:
Myth III
The Wolf Age

(Mac) (Retail) (MYTH3PR)
Publisher: Mumbo Jumbo / GOD Games
The Prequel to the MYTH Saga!
`.. and from the darkness a hero will emerge to bring forth a new age of light..'
Myth III: The Wolf Age takes place 1000 years before the previous two Myth Games. This prequel is a fully squad based real time strategy fantasy game, that follow the life of Connacht the legendary hero who saved humanity from the Myrkridia and the oppressive Trow, eventually becoming the emperor of all Human Lands.
Game Features:
Wage war in towering forests, dank dungeons, scorched deserts, and murky swamps. Beware! The dense foliage and tranquil waters hide horror's unseen.
Command over 40 types of incredibly detailed units, each with their own personalities and special abilities. Conquer 25 single player maps that unfold an epic story of heroism and battle. Play huge multiplayer games online.
True physics explosions ripple the earth and flatten trees. Blood spills down hills pooling in dirty crevices. The bodies of the slain stack to the skies.
Requirements:
Macintosh: Mac OS 9.0 or OS 10.1 with a G3 processor 400 MHz or higher, 128 MB RAM, 4x CD-ROM drive, 350 MB free hard disk space (500 MB required for full install), OpenGL Hardware Accelerated card (such as Rage Pro, Voodoo 2, TNT or equivalent) with 8 MB memory required. Multiplay requires 56k connection or LAN.
Includes:
Price: SOLD

---
Myth: The Total Codex Back to Software Page
Description:
Myth:
The Total Codex
(Win95/98/Mac) (JewelCase) (MYTHTCJC)
Bungie
Game
ESRB Rating: Mature (Ages 17+) - Animated blood, gore and violence
The Complete Myth Collection
This is the complete collection of one of the most critically-acclaimed game series ever created. For the first time, a real-time strategy game looks and feels like a real battlefield. Forget about games with static overhead views. In the fully-3D world of Myth, you can rotate around your troops, watch archers' arrows arc to their targets, and seize the high ground for tactical advantage.
Myth: The Total Codex includes both Myth and Myth II, the "Chimera" scenario pack, the official strategy guides for both Myth and Myth II, and dozens of Myth II multiplayer maps created by Bungie fans.
Only a fully 3D engine does justice to the chaos of a real battlefield. In Myth, you can rotate around your troops and move your view anywhere.
Seize the walls and wreak havoc from above. Destroy bridges and storm enemy fortifications. Controlling the high ground can mean the difference between life and death.
Create your own levels, units, objects, artifacts and more with the included campaign editors.
Endless multiplayer challenge. Play cooperatively or go head-to-head with up to 16 players per game via a local area network, or play for free over the Internet.
Welcome to the World of Myth
Welcome to a world of 3D battlefield action and strategy. A world of dangerous alliances and ancient evil, where destruction reigns supreme, castle walls crumble, flaming arrows rain down from the battlements and deadly sorceries rip through your ranks.
One of the most critically-acclaimed games ever created. Lead your warriors through 25 levels of thick forests, ruined cities and snowy mountain passes to defeat the ancient sorcerers called The Fallen Lords.
Computer Gaming World calls it "a mighty successor to a great game." Includes dozens of new units and lots of new features to wreak havoc on Soulblighter, the cruelest of the Fallen Lords.
Myth II: Chimera
Veteran heroes return to fight an ancient evil in this new 8 level scenario created by Badlands.
Bonus:
Dozens of User-created Scenarios. Jump into entirely new worlds with this collection of our favorite user-created multiplayer maps and scenarios. Play Myth in the wild west, World War 2, feudal Japan, or with pirates in the Caribbean and much more.
Strategy Guides
The official 268 page "Myth: The Fallen Lords" and 251 page "Myth II: Soulblighter" strategy guides created by Sybex are included on the CD to give you hints on how to beat any level.
Requirements:
Windows 95/98/NT 4.0: 133 MHz Pentium processor (200 MHz recommended), 32MB RAM, high color (16bit) video card (DirectX compatible), 4x CD-ROM.
Mac OS: System 7.5 or greater, 100MHz PowerPC 601 processor (120MHz 604 recommended), 32MB RAM, 4x CD-ROM drive.
Mutliplayer Options: bungie.net Internet connection at 28.8k bps or higher, TCP/IP Internet connections or Local Area Network (LAN) running TCP/IP, AppleTalk connection to AppleTalk network (Mac only).
Includes:
Price: 15.00

---
NASCAR Racing 2002 Season for Macintosh Back to Software Page
Description:
Macintosh Version Only
Gentlemen, start your engines!
Battle it out with all of today's top drivers as you race for the 2002 championship!
Get behind the wheel of a 750 horsepower stock car and battle for the championship on real-life tracks. Get under the hood to fine-tune your car or just jump in and race against the best in Arcade Mode. Feel car vibrations, hear the roar of the engines, and sweat it out racing fender to fender at 180 miles per hour.
Features:
2002 Teams, Drivers and Sponsors - Improved photo-realistic graphics show off the new 2002 teams and drivers for the most accurate NASCAR® feel.
Race against your favorite NASCAR® pros - Test your skills against all the top NASCAR® drivers, including Jeff Burton, Dale Earnhardt Jr., Bobby Labonte, Dale Jarrett, and more.
All 23 Tracks - From Talladega Superspeedway™ to the Daytona International Speedway™, we've got them all including the new Chicagoland Speedway™ and Kansas Motor Speedway™, plus an amazing 3-mile fantasy track with 36-degrees of banking.
Track Tours Narrated by Darrell Waltrip - Let Darrell Waltrip show you the ropes as he gives you the low-down on each NASCAR® venue.
Unparalleled Multiplayer Support - Race up to 43 players simultaneously over LAN or Internet for the most intense NASCAR® racing experience ever. Now you can race some of your favorite licensed cars online!
True-to-Life AI - The competition is tough when you're up against NASCAR® pros. Enhanced Artificial Intelligence ensures that professional drivers don't make rookie mistakes.
Create Highlight Reels - The easy-to-use Replay Editor lets you add sound, graphics, and special effects to make the most of your racing highlights.
Realistic Damage - Real hits mean real damage.
Revolutionary 3D Physics - Get the true feel of a 3400-pound stock car. Experience body roll, tire spin, and lockups. There's nothing closer to actual racecar handling.
Arcade Mode - Whether you're a novice driver or an old pro, Arcade Mode lets you skip the setup and jump right into the driver's seat for some serious racing fun!
System Requirements:
Mac OS X only
256MB of Memory
G4 processor at 733 MHz or faster (Dual Processors supported, 500Mhz x2 or above)
4X CD-ROM (16X recommended)
Hard Drive, with 665 MB minimum free space
3D Graphic Acceleration or better ((ATI Radeon/NVidia GeForce2 or faster)
Multiplayer Requirements:
Internet and LAN (TCP/IP) play supported
Internet play requires a 56 Kbps or faster
Includes:
Price: SOLD

---
Nightfall Back to Software Page
Description:

...where myth becomes reality

---
About The Game
---
The Story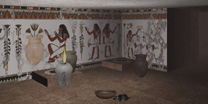 You are an eminent archaeologist exploring an Egyptian tomb for signs of a wonderful secret. Suddenly an earthquake hits the area. You are stunned by rocks and blackout. When you wake up you are trapped, the entrance covered with rocks. Do you wait to be rescued, and risk more aftershocks, or gather up your notes and find another way out? Has anyone been this way before you, and who or what lies in the chambers beyond?
The Environment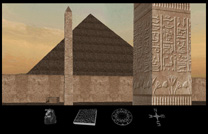 Based on a real myth and actual characteristics of ancient Egyptian culture, experience a depth of game play that could only come from real life. Explore a vast array of tunnels and rooms, solving puzzles which have taken months to design. At the same time, these puzzles use the best of 2D and 3D environments to provide new ways of playing as well as new types of problems to be solved.
You have a virtual hand allowing real and subtle control of your environment. Click the switch you choose to, or move that object just a fraction to the right to line it up. Move a stone to climb up to a ledge, run and jump across huge chasms. Favorite aspects of 2D and 3D control are combined to give you freedom of motion and action. At the same time, all this is easy to control - point the hand to use something or go somewhere.




---
Game Features
---
Real time 3D - freedom to go where you want. Freedom to do what you want.

Unique interaction - puzzles can take place in a real time environment. Things can happen with you and to you while you are doing something else. You can be a part of the puzzle. Puzzle elements can be &quot alive&quot.

Thousands of detailed textures.

Unique puzzles - real cultural symbolism and artifacts lead to acts that go beyond magic and into myth.

Amazing images and music transport you into the world.

Choose thousands or millions of colors.

Beautiful lighting, dust effects, light coronas all add to the atmosphere.

Easy to use - the easiest real time 3D game we've come across. Just point and click.

True 3D objects.

Puzzle solving the way you want to - use the environment in ways it was not designed for. Less chance of getting frustrated and stuck.

A virtual environment that allows you to go where you want to in the way you want to travel - exploration becomes fun.

Controlled random elements mean more than one way to succeed, adding to the replay value.
System Requirements:
100 MHz or faster Power Mac (150MHz and up recommended),
640x480 screen in thousands of colors,
4x CD-ROM,
9 Megs or more of free RAM,
3 Megs hard disk space on your system disk.
System 7.5.3 minimum, System 8.1 and above are recommended.
Includes:
(1) CD
NO Manual; .pdf Manual on CD
Price: 15.00

---
Obsidian Back to Software Page
Description:
It is the year 2066. Pollution has rendered the planet barely liveable. A crack team of scientists has created and launched a satellite called the Ceres Project. On board Ceres is a the world's first practical application of nanotechnology. The nanotech system detects hot-spots in the atmosphere and sends cellular-sized robots to interact with the toxins and neutralize them.
| | |
| --- | --- |
| | You are Lilah. Along with your partner, Max, you have led the Ceres development team. Now, after Ceres has completed a hundred successful days in orbit, it's time for a vacation - or so you think. You're relaxing in one of the world's last true wilderness areas... until something impossible happens. |
| | |
| --- | --- |
| | Near your campsite, you and Max discover a small black crystal. No big deal... until the crystal begins to grow. In just a few days, it reaches hundreds of feet into the sky. Awestruck, you code-name the monolith... "Obsidian." |
| | |
| --- | --- |
| | Soon, finding yourself inside Obsidian, you must leave behind all rational expectation. This is a world of dreams - beginning with your own. Nothing behaves according to physical law. It's mesmerizing, fantastic. But as the story progresses, from dream to dream, you realize that Max is in grave danger. And not just Max, either, but everything you know and love. |
System Requirements:
Performa, Power Macintosh or compatible with an 80MHz PowerPC processor or faster
4x CD-ROM drive
16MB of physical RAM (20MB recommended), Virtual Memory is not recommended
Thousands of colors (640 x 480 display),
20MB free hard disk space,
Macintosh System Software 7.5 Update or later
Includes:
(5) CD's
(1) Manual
NO box
Price: SOLD

---
Description:
Oni
(Mac) (JewelCase) (ONIPR)
Publisher: Bungie
Game
- Animated violence
Her Only Future Is To Avenge the Past...
Bungie Software proudly presents Oni- a single-player blend of action and adventure that combines the best elements of shooters and fighting games into a near-future epic featuring anime-style action and characters.
Throughout breathtaking indoor and outdoor levels created by real- world architects, Oni's third-person vantage point casts gamers in the role of Konoko, a heroine with a vast arsenal of fighting moves- including kicks, punches, throws and combos, as well as finishing moves. But she can also wield powerful weapons- from machine guns to plasma cannons- as she maneuvers her way through an increasingly dark storyline.
With the most fluid animation and control ever seen in a third-person title, Oni promises the smooth feel of a shooter, the visual richness of broad third-person perspective, and the frenetic combat of a fighting game, all combined for a uniquely satisfying gaming experience.
The Story
In the year 2032, Big Brother is alive and well. The World Coalition Government has annexed 80% of all nations and tracks your every move. While those in the cities maintain an acceptable level of comfort at the expense of freedom, the poorest masses exist at the fringes of a toxic wasteland and at the mercy of the Syndicate - a nefarious web of criminals run by Boss Muro.
You are Konoko - a young girl unaware of your past and your destiny. In the midst of the corruption that surrounds you on all sides you must unravel the mystery of your own identity while fighting to save humanity from extinction.
An intense action thriller comes to life with exciting anime style charactrs and storyline.
Revolutionary gameplay blend of hand to hand and weapons combat.
Easy to learn fighting system with cool, lfelike moves.
Arsenal of weapons includes pistols, rocket launchers, energy and projectile weapons.
Requirements:
Macintosh: 300MHz PowerPC, System 8, 64 MB RAM, 800 MB disk space, CDROM, 2MB hardware accelerated 3D graphics card (OpenGL compatible).
Includes:
Price: SOLD

---
Otto Matic Back to Software Page
Description:
The year is 1957 and a fleet of flying saucers from Planet X have come to Earth. These saucers are under the control of the evil Brain Aliens who are abducting helpless human beings and taking them away to strange alien worlds to become slaves of The Giant Brain. Luckily for the human race there exist the Otto Matics, robots who police the galaxy in name of all that is good and decent.
You are Otto Matic, the robot who is given the job of saving Earth from the clutches of The Giant Brain from Planet X. You must rescue as many humans as you can while defeating the Brain Aliens and all of their evil followers. Your mission will take you to strange and fantastic alien worlds which are often treacherous and will require Otto to perform amazing feats.
Your rocket ship will take you to each of the planets, starting with Earth. While on each planet you must save as many humans as you can, but be careful because the Brain Aliens will try to abduct the humans before you can save them. When you save humans, they are teleported to your rocket ship. To escape the planet you must also collect rocket fuel. Once The Giant Brain has been defeated and peace restored to the galaxy, you will return to Earth with your human cargo where they will be freed.
In Otto Matic...
Features:
10 levels on strange alien planets!
Battle 25 different alien creatures!
Attack with 7 different types of space-age weapons
Fight off giant radioactive killer vegetables!
Ski behind giant metal beasts on a sea of toxic ooze!
Ride soap bubbles across noxious lakes of slimy goo!
Get shot out of a cannon!
Smash alien clowns in hovercraft bumper-cars!
Drink radioactive potions to grow to 50ft tall!
Ride a zip-line to escape mutant radioactive robots!
Pilot a flying saucer and lay waste to an alien fortress!
Battle the Giant Brain from Planet X
And much, much more!
Screenshots:
System Requirements:
OS 8.6 thru 9.2 or OS 10.1
iMac DV or G3/266, or any Intel-based Mac.
Rage 128 or Nvidia GeForce 2 3D accelerator*
96MB RAM
Includes:
Price: 20.00

---
Palmistryk Back to Software Page
Description:
Palmistry is a reading of one's hands, written in a language that has been studied since the beginning of time, giving an account of one's own past, present and future.
Features:
Learn to interpret the lines, markings, and shape of your hand.
Print a personal reading derived from your hand characteristics.
System Requirements:
Windows:

33MHz 486DX or better
8MB RAM
DOS 5.0 or better
Windows 3.1+/Windows 95
2x CD-ROM

Mac:

68030 or faster processor
System 7.1 or better
8MB RAM
2X CD-ROM
Includes:
Price: 10.00

---
Pangea Super Pack Back to Software Page
Description:

Five awesome games for Mac OS X
| | |
| --- | --- |
| | An action packed racing game with a stone-age theme! |
| | Travel to incredible alien worlds to rescue humans who have been abducted by evil brain aliens. |
| | The sequel to our most popular game ever! Battle bugs in this amazingly colorful world. |
| | Touted as the best puzzle game to come out in years, this visually addictive game will keep you occupied for hours on end. |
| | As a cowboy in space you'll fight in duels and shootouts, and even outrun herds of stampeding Kanga-Cows. |
SYSTEM REQUIREMENTS
Each game has it's own system requirements, so you should check the system requirements for each game listed above to determine which games your Mac is capable of running. In general, however, to run all of the included games you will need at least a Macintosh G3/400mhz, 256MB of RAM, Mac OS 10.2.6, and an ATI Rage 128 3D accelerator. Most Macs made since 2000 meet these requirements, but you should still check.
Note: The multi-player feature of Cro-Mag Rally only work on MacOS 9, and is not available when running on OS X.
Includes:
(1) shrinkwrapped CD Case
Price: SOLD

---
Patton Strikes Back for Macintosh Back to Software Page
Description:
The drama of a documentary. The challenge of chess.
Patton Strikes Back plunges you into the chos and confusion of World War II's decisive Battle of the Bulge.
As you play, you'll be bombarded by newsreels of digitized WWII film clips...battlefield photos and bulletins...along with dozens of historical anecdotes.
Yet, thanks to the elegantly simple command system, even a rookie can quickly take charge of either side.
Like chess, the basic moves and strategies are easy to learn. But, also like chess, mastering the nuances can take a lifetime.
Patton Strikes Back is a radically new kind of strategy game: Historically credible without being incredibly complex.
Endlessly exciting...but never mindless.
System Requirements:
Plus, SE, Classic, SE/30, LC, II series
System 6.02 or later
1MB RAM (2MB for color)
5MB free hard drive space
800k disk drive
256-colors or B&W display
Includes:
Box
(4) 800k disks
(1) Manual
(1) Quick Start Guide
Price: SOLD

---
Pax Imperia: Eminent Domain Back to Software Page
Pax Imperia: Eminent Domain
(Mac) (JewelCase) (PAXIMPERPR)
Game: Strategy
ESRB Rated: Kids to Adults - Animated Violence
The Ultimate in Intergalactic Strategy and Combat
Explore Worlds. Your universe is as vast as you deem it to be. Explore and colonize hundreds of inhabitable worlds in one of the largest game universes ever created. No two games will ever be the same.
Develop Colonies. Once colonies are established, they can either be left alone or carefully managed. To excel in this gigantic real-time environment you will have to juggle economics, research and develop hundreds of technologies, build your planet's assets, and establish solid domestic and foreign relations. Your trusted advisors will assist you, but the fate of your people lies with you, and you alone.
Create Your Species. With the ability to create your own species, or to use one of the game's pre-designed aliens, contact will always be eventful. Intentions will be unknown...treaties made and broken...trust won and lost.
Control and Conquer. Occasionally fellow emperors just will not listen to reason. Research, design, and deploy massive armadas. Take control of a revolutionary in-game combat engine and wage battle across your universe. Soon, there will be no question as to whose universe it is.
Compete Head-to-Head. There will be others who try to call the universe their own. Up to 16 emperors or computer opponents go head-to-head via modem, LAN or Internet connection.
Explore and colonize hundreds of inhabitable worlds for infinite playability
Research and develop over 300 technologies
Manage the development of your planets' precious resources
Forge strategic alliances and treaties with other empires
Subvert and undermine your enemies
Create a species suitable to your needs
Crush all resistance using Pax's revolutionary combat engine
Go head-to-head - 16 computer or human opponents battle over modem, LAN or the Internet
Requirements: PowerPC 601/80MHz or faster, 2x CD-ROM drive (6x CD-ROM drive or better recommended), 16MB RAM, System 7.5.1 or later, 256-colors display.
Includes:
(1) CD
(1) Manual
(1) Tech Tree Guide
(1) Registration Card
NO Box
Price: 15.00

---
Description:
If you'd always wondered what it would be like to be a master criminal, then Payback is the game for you.
It's entirely non-linear - to complete a level you simply have to obtain a certain number of points - how you get those points is entirely up to you; you can do what the local kingpin tells you, uncover secret missions or just go on a mad killing spree.
There are lots of hidden surprises to discover, so you'll have to play the game through several times to find all the extras.

As you have probably guessed, the game is inspired by Grand Theft Auto, but every effort has been made to ensure that Payback beats GTA in every way.
The game engine supports texture mapping, environment mapping (reflections), distortion mapping, realistic shadows, alpha-channelling (lens flares, explosions and shockwaves), multi-channel 3D sound and realistic physics. The game has also been translated into many languages.

Screenshots:
System Requirements:
Plays on iMacs (revision B or later), G3s (blue and white desktops or later), or G4s and on any machine in OSX
MacOS 9.0 or later
333 MHz or faster
64 MB memory (96 MB recommended)
DrawSprocket 1.7.6 or later
InputSprocket 1.7.3 or later
NetSprocket 1.7.1 or later
QuickTime 4.0 or later
Includes:
Price: SOLD

---
PGA Tour® Golf II Back to Software Page
Description:
REAL GOLF ACTION

Experience the thrill and challenge of PGA TOUR golf - with dynamic wind conditions, 10 different ball lies, random pin placement, accurate ball physics, and a variety of specialty shots - including chips, punches, and fringe putts.

DESIGNED FOR THE MAC

Now full screen graphics! Specifically designed for the Mac system with an all new interface.
Now control your gameplay options through the new Preferences Menu. Completely compatible with all color, as well as, black and white Mac system including PowerBooks.

7 UNIQUE COURSES

Now including 7 TPC couses and 6 tournaments, including 2 all-new ones - TPC at Summerlin, Home of the Las Vegas Invitational, and TPC at River Highlands, Home of the Canon Greater Hartford Open.
The Tournament Players Club courses are designed from the original course blueprints.
Features:
Skins game on every course
Play with the pros! Compete against our new set of 10 featured pros
Introducing the Draw and Fade MeterTM for improved ball control
2 all new ways to view golf - EA SPORTS Hole BrowserTM and Ball-CamTM
More stats including driving accuracy, par breakers, and putting average
System Requirements:
Mac SE/30, Classic II, Color Classic, LC-series, PowerBook, Color PowerBook, Mac II-series, Quadra, Performa, Centris
HD floppy drive (2.5MB free for B&W, 5MB free for color)
System 6.0.7
1MB RAM (B&W); 4MB RAM (256-colors and System 7)
Includes:
Price: 10.00

---
PONG: The Next Level Back to Software Page
Description:
The first and best video game of head-to-head competition is back and better than ever! This is Pong on a whole new level with stunning 3D graphics, one of a kind game environments and multiple new worlds of fast-paced action. Play by yourself or challenge up to 3 other players. You'll experience everything from animated penguins to a topsy-turvy playing surface. Expect the unexpected and hours of fun with Pong!
Features:
Richly detailed 3D environments, graphics and character animations.
Classic gameplay plus many co-operative and competitive multiplayer modes
Game enhancing power-ups and secrets.
System Requirements:
Mac OS X v10.1.5 or higher
400MHz or faster processor
256MB RAM
16MB video card
CD-ROM drive
Includes:
Brand New shrinkwrapped CD
Price: 10.00

---

---
Return to my homepage
---